Boston Donut Fest
Underground at Ink Block 90 Traveler Street,
Sunday, Jul. 28, 11:00 a.m - 6:00 p.m.
Register
The Ultimate Cheat Day is coming… Sunday July 28th
Boston Donut Fest
Will take place in Boston's historic South End located at Underground Ink Block
***Kids under the age of 8 get in FREE.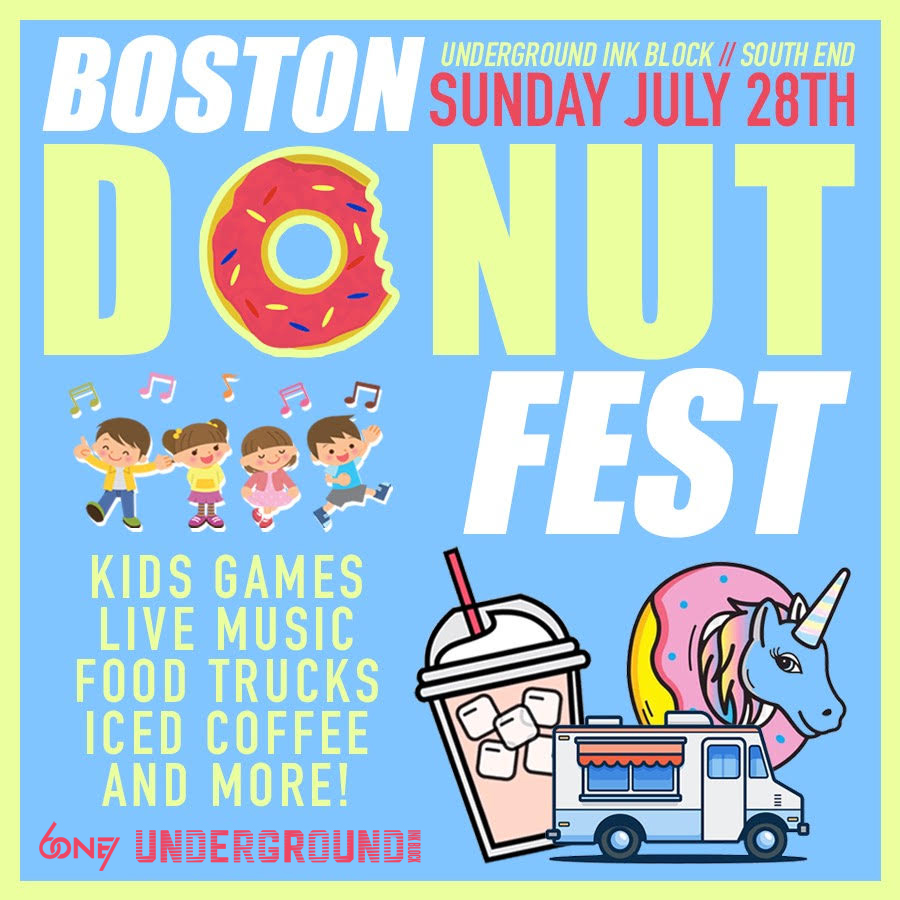 Featuring your favorite New England Donut Shops
Iced Coffee & Cold Beverages
Food & Ice Cream Trucks
DJ's & Live Music
Kids Games & Entertainment
Instagrammable Murals & Backdrops
Sample Vendors, Swag Giveaways, and more!
Donut Shops, Sponsors, and or Media Inquires please contact us at BostonDonutFest@gmail.com
####################
Frequently asked questions:
Are donuts included in the ticket price? – No, all vendors will be selling donuts. Ticket price includes entry only into the festival.
How much will the donuts be? – All vendors will have at least a $3 donut option and upwards depending on the type of donut.
Who are the vendors? – We will be announcing our donut vendors on July 1st
Will there be gluten free and or vegan options? – Yes
What kind of food should I expect? – We will have 4 food trucks. Food trucks will be announced as they're confirmed. Come back for updates.
Is there parking? – Parking is very limited. We suggest taking a ride share service.
Will there be seating? – Yes we will have picnic tables set up through out the venue.
Is it handicap accessible? – Yes
Will there be any alcohol served? – Not this time around, sorry.
Do I need to bring cash or will vendors take credit cards? – Cash is prefered as it will make lines move faster, but vendors will accept credit cards as well.
If it rains will the event be canceled? – No this event is rain or shine.
BY REGISTERING FOR THE EVENT, YOU ALSO CONSENT TO BEING ADDED TO BOSTON.COM'S FOOD NEWSLETTER. YOU MAY OPT OUT AT ANY TIME BY CLICKING THE UNSUBSCRIBE LINK PROVIDED IN THE NEWSLETTER.